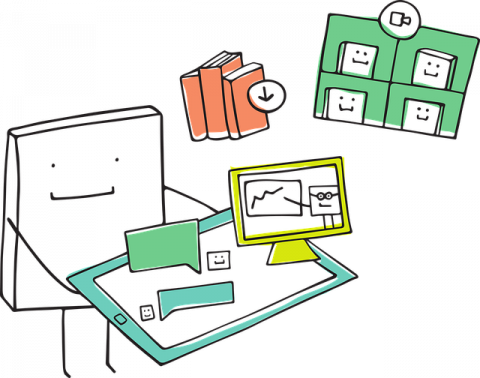 photo: manfredsteger, Pixabay
From Monday 1 August, a new application programming interface (API) platform as well as a new and improved EU trade mark (EUTM) filing form are available for all customers.
Both tools are key milestones in the ongoing modernisation of the EUIPO's digital services and take into consideration the input received from customers. The Strategic Plan 2025 commits to developing innovative tools and services using next-generation technologies.
API platform
The API as a connection between computers or between computer programs is a type of software interface, offering a business-to-business (B2B) service to other pieces of software.
Every year the European Union Intellectual Property Office (EUIPO) receives over 250 000 trade mark and design applications, with almost all of these being submitted online. The API connection allows filers to directly register an EU trade mark (EUTM) from their own systems, save time and reduce the risk of errors. Frequent filers of EUTMs can now integrate their own IP management solution with the EUIPO one through the API platform (Decision No EX-22-6).  More details on how to get started can be found via this link.
The API platform opened in April 2022 in restrictive mode to six Key Users who expressed interest in testing the system. They participated in the pilot project and filed 27 EUTMs through the API. Their feedback served to further improve the platform.
New EUTM filing Form
The new online form is more intuitive, easier to use and has new features, including:
customisation options, allowing you to tailor your filing experience;
a new design with full guidance and contextual help;
faster goods and services management;
enhanced security
This detailed webinar explains the main improvements and features.
Over the past months, 25 users in a pilot test filed their EU trade marks using the new filing system. Their feedback was positive, and their suggestions have been incorporated to improve the final product. You can provide your views too through the feedback option that appears as soon as you have filed your application.
What is next?
The Office plans to completely replace the existing 5-Step Form and Advanced Form with the new EUTM filing form by the end of November 2022.
In the next year, the EUIPO expects a new Easy Filing form for designs to be available for customers; as well as new products for the API platform for designs. Users will also be invited to test it beforehand.
Please contact information@euipo.europa.eu for more information.
Source:
https://euipo.europa.eu/