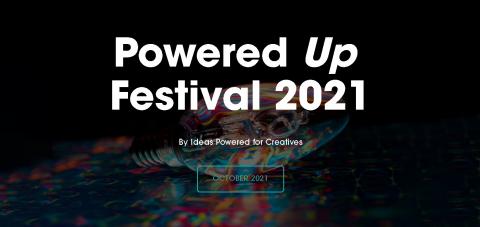 A free online festival to inspire Europe's creative community to power and protect original ideas. 
Streaming throughout October 2021, Powered Up festival features an exciting line-up of live-streamed sessions which aim to inspire innovation, creativity & entrepreneurship through the power of intellectual property (IP).
Trade marks, designs, patents, copyright, and other IP rights, help us all to grow, protect and share our ideas, creations and products with the rest of the world.
Organised by Ideas Powered for Creatives, the festival is a mix of panel discussions, keynote speeches and one-to-one interviews, which will showcase some of the most-creative young minds and talked-about companies in Europe. Join us this October to discover how they're using IP to bring their original ideas to life.
How to watch
All sessions are exclusively streamed via the Ideas Powered Facebook and YouTube accounts. Once sessions have taken place, they will be uploaded to the line-up page for you to watch on-demand.
Don't miss the upcomming events:
Top tips to succeed as a creative
Panel discussion
14 October, 16:00 - 16:20 (CET)
Facebook for Creators
Keynote Session
18 October, 16:00 - 16:20 (CET)
Building your personal brand
Q&A with Jonas Togo
21 October, 16:00 - 16:15 (CET)
What to do is someone steals your creative work
Q&A with Benjamin Winsner
25 October, 16:00 - 16:15 (CET)
Inspiration Vs Theft
Q&A with Véronique Delforge (EUIPO)
27 October, 16:00 - 16:15 (CET)
Source:
https://ideaspowered.eu/en