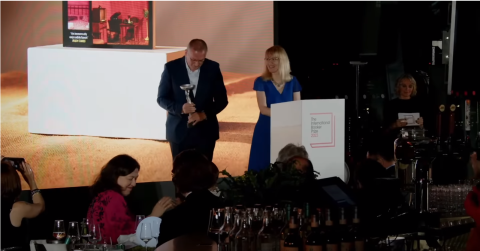 Georgi Gospodinov's Time Shelter, translated by Angela Rodel, has become the first book written in Bulgarian to win the International Booker prize.
Chair of judges Leïla Slimani described Time Shelter as "a brilliant novel full of irony and melancholy", and added: "It is a very profound work that deals with a contemporary question and also a philosophical question: what happens to us when our memories disappear?"
The £50,000 prize, which is split equally between the author and translator, is awarded annually for a novel or short story collection in any language that has been translated into English and published in the UK or Ireland.
Time Shelter is Gospodinov's fourth book to be translated into English. It concerns the opening of a "clinic for the past" that offers a promising treatment for Alzheimer's sufferers: each floor reproduces a decade in minute detail, with everything from furniture, cigarettes and drinks from the era, to newspapers that cover each day of the decade. As word spreads, healthy people begin to seek refuge in the clinic to escape the horrors of modern life.
Slimani said the novel "questions the way in which our memory is the cement of our identity and our intimate narrative.
"But it is also a great novel about Europe, a continent in need of a future, where the past is reinvented and nostalgia is a poison," she continued. "It offers us a perspective on the destiny of countries like Bulgaria, which have found themselves at the heart of the ideological conflict between the west and the communist world."
Slimani was joined on the judging panel by Uilleam Blacker, one of Britain's leading literary translators from Ukrainian, Booker-shortlisted novelist Tan Twan Eng, New Yorker staff writer Parul Sehgal and Frederick Studemann, literary editor of the Financial Times.
Gospodinov is a Bulgarian poet, writer and playwright. When published in Bulgaria, Time Shelter topped the book charts, and won the Strega European prize. Rodel is a musician and literary translator who lives and works in Bulgaria.
Patrick McGuinness in his Guardian review called Gospodinov "a writer of great warmth as well as skill" and said Rodel's translation was done with "skill and delicacy".
Time Shelter's win marks the second year in a row that the award has gone to a book in a language never previously honoured by the prize. Last year's winner, Tomb of Sand by Geetanjali Shree, translated by Daisy Rockwell, was the first novel translated from Hindi to win.
Fiammetta Rocco, administrator of the International Booker, said "although fiction in translation published in Britain has always been a slightly specialised way of looking at literature, I don't think that's the case any more. There is an extraordinary evolution going on. We're seeing it in the range of independent publishers, the presentation of books in languages we've never seen before."
Gospodinov and Rodel were announced as winners at an event at London's Sky Garden on Tuesday evening. The pair were up against a shortlist that included Eva Baltasar's Boulder, translated by Julia Sanches from Catalan, The Gospel According to the New World by Maryse Condé, translated from French by her husband Richard Philcox, Whale by Cheon Myeong-kwan, translated from Korean by Chi-Young Kim, Standing Heavy by GauZ', translated from French by Frank Wynne and Still Born by Guadalupe Nettel, translated from Spanish by Rosalind Harvey.
Source:
by Sarah Shaffi, The Guardian